Insulation Blowing
/ Insulation Blowing Machine
HS 5500 Hydraulic
Heat Seal 5500 Hydraulic Insulation Blowing Machine
Please call us to enquire!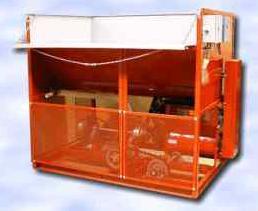 Request a Quote

AIRLOCK EXHAUSTER: This bleed off mechanism results in improved coverage and greatly reduces dust in the attic.
OUTPUT: Cellulose 135 bags/hr. (4,050 lbs – 1,840 kg.), Fibreglass 82 bags/hr. (2,952 lbs – 1,342 kg.), Rockwood 100 bags/hr. (3,600 lbs – 1,636 kg.).

REMOVABLE SLIDE BASE: Removable Slide Base allows the hydraulic motor to be mounted with flexible coupling.

DOUBLE CLUTCHES: Electro-magnetic double clutches allow air and material flow to be controlled individually by remote control. Expected life 10 to 15 years.

SAFETY CLUTCH: Safety clutch will slip if any foreign material jams the machine.

REMOTE CONTROL: Box mounted on side of machine. Relays are plug in type. 150' remote cord supplied.

AIR CONTROL: Bleed off valves can be operated independently. One way air valve prevents insulation from backing up into blower.

MATERIAL CONTROL: Slide gate.

HOPPER: 50 cubic foot capacity, made with heavy gauge metal with heavy-duty reinforced feeder paddles for uniform material feed.

SHREDDER: Double shredder with self-cleaning tinges. Hinged doors on each side for easy access. Front door has plexiglass material feed monitoring window.

AIRLOCK CHAMBER: Rotary type, plate steel construction (wear resistant), 20" long with 12" diameter with 4" outlet. (Recommended 150' of 3.5" hose).

BLOWER: Positive displacement 4L rotary lobe blower. 7 psi 433 CFM.
DIMENSIONS: 48 1/2" wide, 72" long, 60" high. Shipping weight: 1.485 lbs.
INSTALLATION: When installed correctly, outside air is used for the blower intake.