Duct Cleaning
/ Scorpion Rod Package / Whips / Tools / Snake / Rods
/ Scorpion Rod Cleaning Packages
STP1-3/8
Scorpion Starter Package with 3/8" Airline Fittings
With the advent of our Scorpion Rod System, our customers have been able to take duct cleaning to another level.
*Note: Higher air pressure is more productive and cleans easier.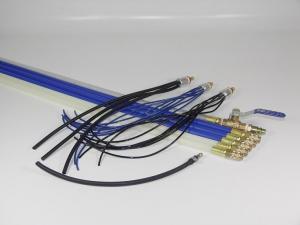 Request a Quote
INCLUDES:
3 pcs SS-1A 5' x 3/8" I.D. Medium Flexible Rods
2 pcs SS-1B 5' x 3/8" I.D. Stiff Rods
1 pc SS-16 Octopus Predator Whip
1 pc SS-16-LP Octopus Predator Whip Low Pressure
1 pc SS-15 Mini Predator Whip
1 pc SS-3 Single Predator Whip
1 pc SS-BV-H-3/8 Ball Valve with 5' clear braided tubing & Female QD
BENEFITS:
Get into those hard to reach places.

Perform a better cleaning hob than ever before.

Clean quicker than you could previously.

Do a great job instantly through a 1" hole.
| | Part # | Description | Price | QTY | |
| --- | --- | --- | --- | --- | --- |
| | STP1-3/8 | Scorpion Starter Package, 3/8" Airline Fitting | $373.00 USD | | |