Duct Cleaning
/ Duct Tools & Accessories
Register Covers
Available in 2 Sizes. 16" x 8"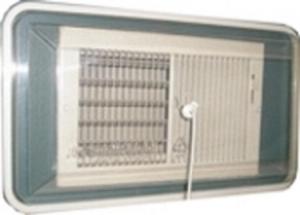 Request a Quote
The cover is made from recycled plastic, and will fit a 16" x 8" return air vent.
Two can be used side by side for return air vents.
The installation kits consist of a well-designed clear plastic cover with a closed cell foam gasket around the edge to insure a tight seal, a lanyard, and a hook.
No permanent hardware is required.
To install, attach the hook to the register and thread the lanyard through a small hole in the cover. Tighten the lanyard and the cover will remain securely in place.
To remove, loosen the lanyard and remove the hook from the register.
You an re-use your A-C DraftShield cover for every duct cleaning job.
| | Part # | Description | Price | QTY | |
| --- | --- | --- | --- | --- | --- |
| | CA1608 | 16"X 8" Register Cover | $18.50 USD | | |