Duct Cleaning
/ Scorpion Rod Package / Whips / Tools / Snake / Rods
/ Scorpion Whips
Octopus Predator Whips
*LIMIT 1 WHIP PER CUSTOMER UNTIL FURTHER NOTICE.
Purchase 3 or more of the forward whips of the same length and receive a Quantity Discount! This discount will be applied manually when processed by Heat Seal.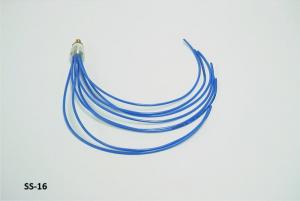 Request a Quote
The best cleaning tool we make!
Also available in low pressure designed for as low as 100 to 150 PSI working pressure. (Black Tentacles)
Uses 1/3rd less air than the Mini Predator.
Cleans insulated duct and flex duct better than any other tool without damaging it.
Makes metal ductwork shine in an instant.
Is the fastest, most thorough duct cleaning tool ever made.
Gets into corners - 14" or 28" long tentacles.
Can be adapted to any rod system.
Reusable - tentacles can be replaced.
Compressed air causes the 8 tentacles to thrash in every direction at once hitting the duct work and wiping it clean. Can be used in every duct.
SS-16-R - More efficient cleaning. Fits through a 1-1/2" hole. Works just like our other Octopus Whip but forces the debris back towards you. Leaves less debris in the ductwork to be cleaned with the skipper ball.
(Rod is not included)
| | Part # | Description | Price | QTY | |
| --- | --- | --- | --- | --- | --- |
| | SS-16 | Octopus Predator Whip 14" Long | $62.60 USD | | |
| | SS-16-28 | Octopus Predator Whip 28" Long | $73.05 USD | | |
| | SS-16LP | Octopus Predator Whip Low Pressure, 14" Long | $62.60 USD | | |
| | SS-16-28LP | Octopus Predator Whip Low Pressure, 28" Long | $73.05 USD | | |
| | SS-16-R | Reverse Octopus Predator Whip | $68.70 USD | | |