Insulation Blowing
/ Wireless Remote
Wireless Remote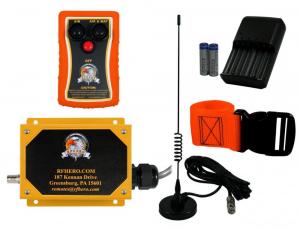 Request a Quote
300 feet PLUS of operating range under typical conditions.
Hand sized, 3 button remote. Permits Blower Only, Blower and Feeder operations and Off.
If ordered with new machine the unit is 'plug in and go'.
Very easy to retrofit existing Heat Seal machines.
Receiver runs off of the machines 12V battery, while transmitter (hand held piece) runs off of 3 AAA batteries (batteries included).
| | Part # | Description | Price | QTY | |
| --- | --- | --- | --- | --- | --- |
| | WLESS | Wireless Remote | $1450.00 USD | | |
| | WR-HH-NEW | Hand Held Piece for Wireless Remote (RF Hero) | $600.00 USD | | |
| | WR-HH-Y | Hand Held Piece for Wireless Remote (Yellow) | $318.00 USD | | |
| | WR-HH | Hand Held Piece for Wireless Remote (Blue) | $206.40 USD | | |
| | M123020 | Pocket Clip for Hand Held | $20.70 USD | | |
| | WLESS-CASE | Wireless Remote Case and Belt (RF Hero ONLY) | $58.00 USD | | |