Dryer Vent Cleaning
/ Dyer Vent Snake / Skipper Balls / Valves
Scorpion Spinning Brush
Improved Design, More Torque!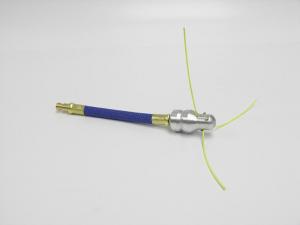 Request a Quote
This new tool for the Scorpion System is used when super aggressive brushing is required.
Works only in round duct 6" or less.
Needs a minimum of 175 PSI to operate
Blows in reverse.
Bristles act like helicopter blades and help push debris back towards you.
When whips will not clean, this is the tool to try.
Replacement bristles available.
| | Part # | Description | Price | QTY | |
| --- | --- | --- | --- | --- | --- |
| | SS-18 | Scorpion Spinning Brush | $65.25 USD | | |
*Can only be used on Scorpion Rods and Snake.
Skipper Ball Care & Maintenance:

Dip skipper ball in mineral oil (varsol or paint thinner) and give them a blast of air from a blowgun which cleans the liquid and the dust out of them.
Do this several times to get them really clean.
DO NOT use any solvent that contains oil.
DO NOT lubricate with oil as the film will only attract and hold on to the dirt, where as dry fittings stay cleaner longer.