Duct Cleaning
/ Compressors / Auxiliary Tank
Portable Electric Compressor
*Please contact the staff at Heat Seal to discuss availability.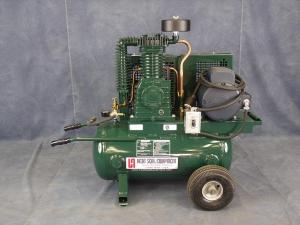 Request a Quote
230V Compressor
25.5 amps
17 CFM
Comes with twist lock plug and 2 adapters to plug into dryer or stove plugs.
The 20 gallon tank fills from 0-195 PSI in 1:45minutes. When the air pressure drops to 165 PSI it takes 25 seconds for recovery.
A second auxiliary tank is available for double the volume of air. With the auxiliary tank it takes 3:30 minutes to fill from 0-195 PSI. When air pressure drops to 165 PSI the recovery time is 45 seconds.
Dimensions: 45" long x 23" wide x 41" high Weight: 305lbs
| | Part # | Description | Price | QTY | |
| --- | --- | --- | --- | --- | --- |
| | PCOMP | Portable Electric Compressor | $2505.00 USD | | |