Duct Cleaning
/ Airline Hose Package / Airline / Hose Reel
Hose Reel
HAND CRANK HOSE REEL
*Currently on back order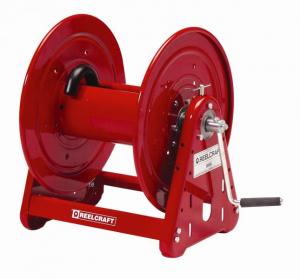 Request a Quote

• Designed for rugged heavy duty applications requiring long lengths of hose.

• Can hold up to 300' of 3/8" hose.

• All bolted unitized construction with no welds to fatigue.

• Full flow swivel and heavy gauge steel frame, spool and drum ensure longest service life.
This very large swivel fitting is the greatest feature. There is no restriction of air flow.
Dimensions - 22 x 18 x 22
Hose Reel with 200' of Red Airline and 15' line to connect to tank also available.
*Hose MUST be inflated before winding onto reel.
| | Part # | Description | Price | QTY | |
| --- | --- | --- | --- | --- | --- |
| | REEL | Reel Craft Hose Reel | $517.50 USD | | |
| | REEL-1/4 | Reel Craft Hose Reel w/ 15' line, 1/4" Fittings | $556.55 USD | | |
| | REEL-3/8 | Reel Craft Hose Reel w/ 15' line, 3/8" Fittings | $568.00 USD | | |
| | REEL200-1/4 | Hose Reel with 200' Airline w/ 1/4" Fittings | $949.75 USD | | |
| | REEL200-3/8 | Hose Reel with 200' Airline w/ 3/8" Fittings | $972.25 USD | | |
| | REEL-SWIVEL | | $182.60 USD | | |