08-10-2020
The Duct Cleaning Vacuum That Effectively Cleans Air Ducts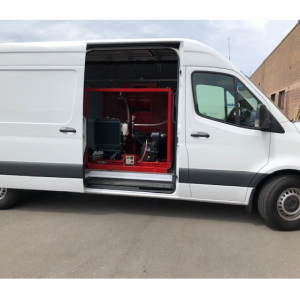 One of the most effective air duct cleaning tools is a powerful duct cleaning vacuum. To fully understand the significance of reliable duct cleaning vacuums,it's important to understand the process in full.
Let's see how this air duct cleaning tool functions when it's time to clean clogged air ducts:
Dust cleaning contractors should use a powerful duct cleaning vacuum to remove all the debris from the air ducts. Typically, this large powerful vacuum is mounted in a truck or van. Manual or motorized brushes or whips are then inserted into the air ducts through vents and these knock and loosen debris. The powerful cleaning vacuum then sucks all the loosened debris and ultimately cleans the pipes.
Heat Seal Equipment's CTM Kubota 56 HP Liquid Cooled Diesel Engines have a truck mounted vacuum that is mounted across the front of the cargo area and is powered at 240 PSI. Its duct cleaner occupies a total length of 7 feet which leaves 7 feet of storage area. Suction is made possible with a 450-feet hose and a 39-inch aluminum and steel high vacuum fan. Also, it comes with 20 washable anti-static polyester bags installed with a chain hanging inside for easy cleaning while on the go. Not only does it have the aforementioned, its side door allows easy access to both engine and compressor for effortless operation and maintenance.
Since its inception in 1975, Heat Seal Equipment has specialized in the design, development and manufacturing of a variety of quality air handling equipment and tools. Over the years we have developed and manufactured different duct cleaning machines powered by gas, diesel and electric. We make compact truck mounted, van mounted, hyper vac hybrids, and portable vacuums available to effectively clean air ducts. We also design and manufacture a complete line of quality tools and accessories.
To know more about our products, call us at (905) 683-9223.