Duct Cleaning
/ Chemicals & Disinfectants
Power Coil Clean
COILCLEAN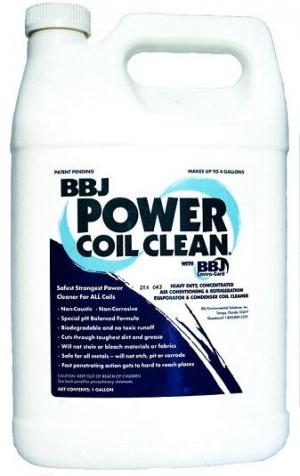 Request a Quote
A non-caustic, non-corrsive heavy duty coil cleaner that safely cleans and deodorizes evaporator coils, condenser coils, heating coils, window units, air filters, blowers and other dirty HVAC/R components without damaging metal surfaces.
Gallon Bottle.
| | Part # | Description | Price | QTY | |
| --- | --- | --- | --- | --- | --- |
| | CoilClean | Power Coil Clean | $17.00 USD | | |
Power Coil Clean, with its special pH balanced patented formula, removes the most stubborn soils and deposits from evaporator and condenser cooling coils. It effectively cleans and deodorizes evaporator coils, heating coils, condenser coils, window units, air filters, blowers, and other dirty HVAC components. With its special fast, penetrating action Power Coil Clean gets to hard to reach places by cutting through the toughest dirt, grease, and grime. Power Coil Clean includes patented Enviro-Gard that protects coils while cleaning. It allows Power coil Clean to clean like an acid but without the harmful effects of acid. Although it leaves coils clean and shiny, BBJ evaporator coil cleaner will not etch, pit or corrode metal. Some acid cleaners can etch the metal surfaces causing water blow off on the evaporator coil, which in turn can cause microbial contamination downstream. Power Coil Clean is safe and non-corrosive on all metals, including aluminum, copper and iron. Power Coil Clean also will not stain or bleach materials or fabrics.
Many acid and alkaline cleaners on the market today, clean by causing a chemical reaction between the cleaner and the metal that destroys the surface of the metal. This type of chemical reaction damages coils causing system inefficiency and failure. Tests have shown that up to 90 percent of the weight of aluminum coil stock is lost by soaking in these types of cleaners for only four hours. Power Coil Clean has the same powerful cleaning action, but without damaging effects of these cleaners.