Duct Cleaning
/ Miscellaneous Tool Package / Plugs / Duct Mask / Blowguns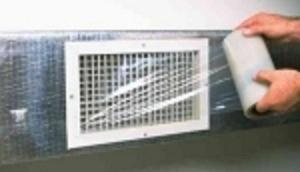 Request a Quote
About Duct Mask:
Duct Mask is used to provide a quick temporary seal on registers and grills, especially on walls and ceilings.
Duct Mask has an adhesive backed film that comes in 8" wide 200' rolls and is perforated every 4" to provide a quick custom, one-step installation.
Duct Mask can be easily removed from the register without harming the register's factory finish (may take off painted surface).
| | Part # | Description | Price | QTY | |
| --- | --- | --- | --- | --- | --- |
| | DM | Duct Mask Roll | $27.00 USD | | |
| | DM-25-49 | Duct Mask Roll - Quantity Discount | $24.75 USD | | |
| | DM-50-74 | Duct Mask Roll - Quantity Discount | $24.00 USD | | |
| | DM-75-99 | Duct Mask Roll - Quantity Discount | $23.75 USD | | |
| | DM-100+ | Duct Mask Roll - Quantity Discount | $22.50 USD | | |
*Please note. Pricing below is based on purchase of quantity.
ie.: DM-25-49
You must purchase an amount between 25-49 to receive this discount