22-06-2020
3 Reasons Why You Need a Reliable Dryer Vent Cleaning Equipment Supplier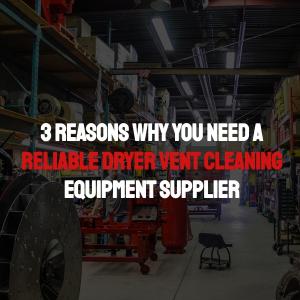 If you're in the HVAC and air handling business, you probably already understand the importance of having quality dryer vent cleaning equipment. Top-tier dryer vent cleaning tools and equipment are known for their durability and ability to streamline everyday service processes and operations. But in the event that it is time to replace your equipment, it's important to have an equipment supplier you can rely on.
Read on to learn 3 reasons why you need a reliable dryer vent cleaning equipment supplier
Accessibility
Accessibility is one of the biggest reasons you should have a reliable equipment supplier. It can be difficult trying to find a supplier to keep your HVAC equipment arsenal fully stocked with the necessary tools and equipment needed to get the job done. Establishing one supplier as your go-to for equipment and tooling needs means you won't have to go looking elsewhere. It also means you can develop a relationship with your go-to supplier, where they are able to assess your service needs and provide you with equipment that meets those needs effectively.
Reduce DownTime
It's no secret that equipment downtime slows down regular operations, and in some instances prevents you from servicing your clients' HVAC and air handling needs at all. This can ultimately affect your bottom line. But, having a trusted equipment supplier can help reduce downtime by providing you with the equipment you need quickly and relatively easily. That way, you can get back to regular operations faster and without having to stress about not meeting clients' servicing needs.
Quality
Finally, it can be difficult to find a supplier that promises quality when it comes to their provision of dryer vent cleaning equipment. Finding a dedicated supplier of quality equipment, tools, and service can be hard to come by.
Luckily, Heat Seal Equipment Services is dedicated to providing customers with the best-in-quality tools available in the industry. We work hard to assess your HVAC and air handling needs to provide you with the tools and equipment necessary to get the job done. Call us today for all your dryer vent cleaning tools and equipment needs - we'd be happy to help!